I had to get my life together the last few weeks and get some wedding stuff done. The florist has been paid in full, I finally got my last few Save the Date cards out, an address list out to my sister for our Friday night event pre-wedding, set a shower date, and I started our registry. First -- let me say how much I love the age of the internet. I set up a Macy's registry and linked it with the My Registry website without even getting up from the kitchen table. Amazing. I think that it made it enjoyable. I did decide to go with the "My Registry" website because I could pick and choose from a lot of different places and they all go to one main registry. I like that a lot better than trying to find EVERYTHING at two stores.
As far as the registry goes -- does anyone have any suggestions/things the wish they had registered for but they didn't? I am wanting to put some small home decor items on my list, fine china, and don't need a ton of kitchen/bar/glasses. But then again maybe we should replace some things. I'm just trying to really streamline this into stuff we really need and also want.
I was agonizing over a china pattern for what seemed like forever but finally settled on Kate Spade Parker Place. I really am into black and white and think it will allow me to just change out some salad and app plates later on if I feel bored with it or need a change. It's really hard to see in the pic but the accent color is mint for this set.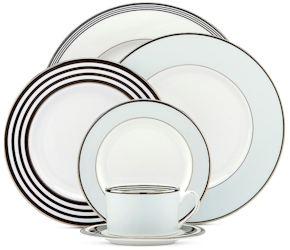 We also made a cash fund because Matt cannot stop talking about wanting a Big Green Egg for the back yard to grill with.
Even though our event is small it's exciting to think that people love you enough to get you a few nice things for the house.
~the engaged gal~