Happy Sunday everyone! I wanted to finally take a moment and share some big "Single Gal" news -- I get to start a new job this upcoming week. I know that work was extra hard recently but I think that all along I was really never quite as happy at my new, bigger company as I had been with my former, smaller company. An opportunity came up at a small company my old claims manager went to about a year ago and while I'm not an advocate of job jumping or changing less than a year in, I felt like it was the right thing for me to do. It's been in the works for a couple of weeks but I needed to make the rounds to parents/friends/family with my news and also put in my notice before I broadcasted here.
The more days I am on this earth, the more I am reminded that the only constant is change. A hard concept for me, but I am very hopeful and excited for a positive change in my career.
One thing I am super excited about is to go back to an actual professional dress code. We had a pretty casual one at my last company that I didn't even like to abide by -- because I like to get dressed to go out in public always. Mainly because that's what's appropriate people -- especially for work. In light of this, I realized that after I lost about 13 pounds training for my 1/2 Marathon last summer/fall I needed a few new "wear to work" items because none of mine fit. Enter new pants.
In case you are in the mood to shop today JCrew factory is offering an extra 30% off with the code "MOREPLEASE".
I really wanted both of these, but grabbed the neutral because I figured it would be more versatile. But someone get the teal ones and enjoy for me. They are gorgeous!
I did go bright in my second pair of Minnie pants though. How bright and happy are these?
This may have falled into my basket too because the sale was so good...and I need another necklace. But I just couldn't resist the little bit of neon for spring and summer with an extra 30% off the price of $29.95.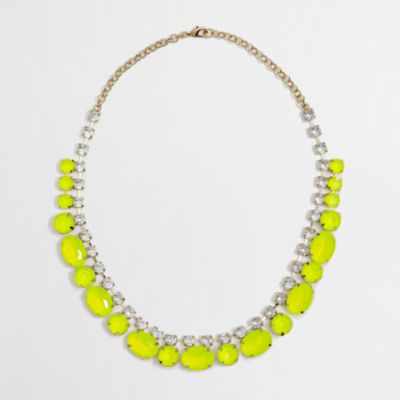 Factory Neon and Crystal Necklace
So if you are awaiting pictures of my bedroom redo lets give it another minute because I have a shopping problem I am trying to reign in.
Love you. Mean it.
~the single gal~