Happy Easter everyone! I hope you are all with loved ones doing something fun today! I survived my first week at work and it was nothing out of the ordinary regarding trying to get logins, sending numerous IT tickets, setting up VM, and doing online corporate training videos. I'm trying to relax tonight before licensing class (round two) starts Monday for the full week. 2014 is still throwing curve balls at me so even though work went really well it still seems like other areas of life are lagging behind in the "wonderful news" area. Also, I need some sleep. As such, we are keeping Sunday reads light today!
First off -- JCrew Factory is seriously getting me this season. I have been ordering a lot of their stuff for work and with the 50% off sale that goes through April 21st I may or may not have added some more items that are on the way here. Sad story -- they had some striped bow pumps that were amazing but I can't even link a photo because they didn't have my size last night and I guess they are completely sold out. BUT -- I have been searching for some metallic pumps and for 50% off I thought I could at least see if I could work
these
into some outfits.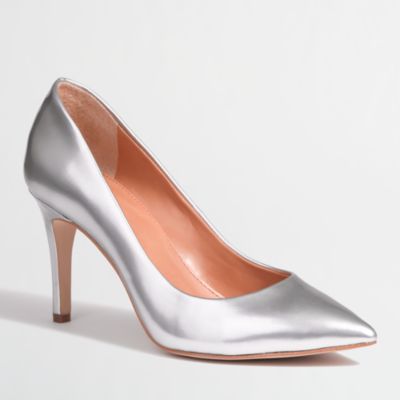 JCrew Factory Isabelle Metallic Pumps $59.00
Here is some outfit inspiration I found on Pinterest:
Let's also note the weird come back of
pull-on shorts
which I feel is very 70's. So obviously I'm on board. They have solid pull-on shorts for $21.00 on the JCrew Factory site through tomorrow.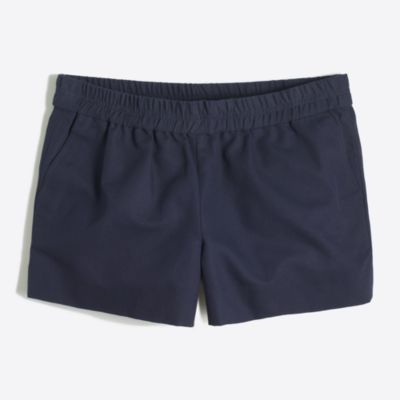 Outfit inspriation: Could this be me every time I go out this summer? The printed pull-on shorts from Factory were adorable but appear to be gone now. Sads.
Other things -- I've been binge reading YA Lit lately. Definitely really enjoyed these two books that I got from the library this month! I'm actually dying to run back to the library to get the next in both of these series but I am making myself concentrate on studying for my license exam this next week (adult problems).
What are you ordering/wearing/reading/ lately?
~the single gal~