Happy Friday! Thanks again for all the stops by out tiny little blog and for reading or just looking at pictures or whatever you like about our posts. We adore you. Truly.
1. I'm going to work and make the rest of this week about communication. Especially with loved ones. It's really important and something I need to work on -- especially with roommates (yes, 3 Putt.). I mean we aren't about to kill each other by any means but I want to get this exercise down by December.
2. Wedding season is here. But unemployed people be broke. I actually returned one of my two interview skirts and located a basic black shift dress (early April weddings in Blue Ridge call for sleeves) at H&M for $26. WIN! But if I had more money I would want
this
BB Dakota Grendell dress for $74.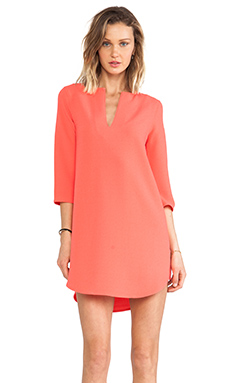 3 . Fridays are for listening to Miley Cyrus and afternoon yoga because holy cow am I carrying some serious stress between my shoulder blades this week.
4. I'm really excited to have a date night tonight with 3 Putt. In the name of saving money we will eat dinner here, but go to our favorite wine bar
Vin 25
in Roswell for a dessert platter and some adult bevs.
5. I notoriously tell 3 Putt that I don't like watching internet videos. Seriously, I really don't -- but I caught this on a blog I read and I actually just loved it. 73 Questions with Sarah Jessica Parker at her home in just over 5 minutes. It was adorable and sweet and she just seemed so authentic and able to roll with the speed of the interview.
Enjoy your day!
~the single gal~