Happy Friday, everyone! We made it! It's been quite a busy week even for the unemployed. I feel like I have been cranking out a lot of "business" all week. This is actually a super happy Friday -- I've received a formal offer letter this morning for the job I was really hoping to get an offer on. I went for my final meeting Wednesday morning and they shocked me by pretty much calling me within the hour with a verbal offer. I'm a couple weeks from a start date -- they are now vetting me like crazy with background and I still have a feeling I'm going to have to promise my unborn child to them at some point. Oh well. I guess it is just part of the process to make sure I'm not crazy. Let's hope that nothing bounces back because hey -- I just announced I got a job. We don't want this to end in tragedy.
1. As mentioned above -- formal offer letter received today. I really can't even believe how this job came about. I am actually going to transition out of claims handling and work for a broker. I have all the feelings this week.
2. In other news I am a super "girly girl" and I have ordered this as new office wear and maybe First Day of Incredible New Job Outfit. It's on super sale this weekend online at J. Crew Factory. It is pink and has capped sleeves. I don't know what's not to love.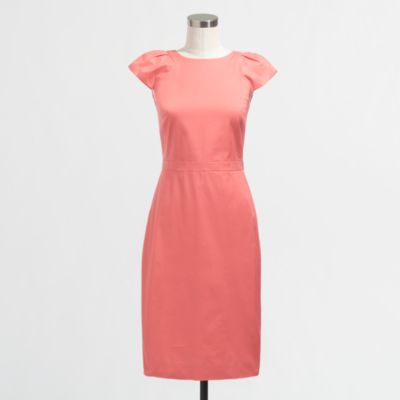 3. Can I just take a moment and say how amazing Unemployment 2014 has been? And not even because I haven't had to go to work for a few weeks. This reflection is ultimately complete amazement and gratitude to have had such a great reminder of all the loving, supportive, faithful, and positive people I have surrounding me in my life. I love all of you. Every comment, phone call, and pep talk has meant the world to me.
4. I am seriously newly obsessed with
La Croix
sparkling water. It gets me through the day and keeps me full so I can fit into a wedding dress. I really have no idea if it's actually healthy or not but you can't win 'em all.
5. Also filed under things I probably should eat but that I love -- frozen taquitos. May every Thursday be Taquito Day in the future.
~the single gal~